Unlock Nokia 5100 for Free
Nokia 5100 Features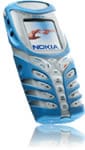 Outstanding new design
Greater durability - protects against water splashes, dirt, scratches and bumps
Many functions that support active lifestyle: Calorie Counter, Integrated Flashlight, Thermometer and Stopwatch
MMS with high resolution color display
Calorie Counter
Sound meter detects the noise level in your surroundings and Automatic Volume Control adjusts your speaker volume accordingly.
---
The Nokia 5100 can be unlocked for free via unlockitfree.com instant remote IMEI DCT4 unlock code Generator! You can successfully unlock your mobile from 500 carriers World Wide - Use our online Nokia DCT4 calculator to Start and unlock your phone within minutes - completely free, safe and legal!
---
Unlocking
Unlocking using a remote IMEI calculator is a safe and legal way to remove SIM restrictions on your Nokia 5100. Most Non touchscreen Nokia phones have the ability to be unlocked using an online DCT2/3/4 IMEI unlocker tool. This does not require any special equipment or software and can be done for free simply using a calculator online.
Unlock Your 5100 Free - Click here
---
Generate Master Code
A Nokia Master code is a bypass code that allows you to bypass any security codes set by a user on a phone during startup. You simply need to get the IMEI to do this, which can be found on the phone under the battery.
Free Master Reset Security Code